Recent headlines around wealth management advisors pit humans versus robo-advisors. Clients ask, "Which is better?" Most are looking for that crystal ball that will tell them which will "win" the battle for the most reliable advice. Will it be humans or robots?
Accenture's recent research of more than 1,300 investors shows the future is not an either/or scenario. Instead, it is an ampersand—humans & robots in a hybrid scenario.
Firms that provide an automated platform with periodic access to a human advisor rank as the most preferred scenario across a range of investor profiles. Combining the best of both worlds—the low cost and access of robo-platforms with an advisor's expertise in handling more nuanced or complex investing scenarios—hybrid firms ranked higher than all others in several dimensions critical to customer loyalty and satisfaction, from "customized service" to "low-cost products."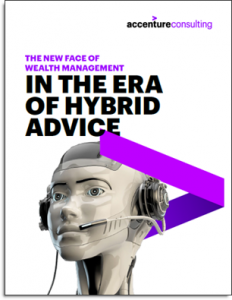 The implications are clear—most wealth management firms will likely need to start designing a more flexible model for their clients. There really isn't time to waste, as Millennials and Gen Xers already tend to use mainly the hybrid model, and – according to our survey – 68 percent of Emerging Wealthy and High-Net-Worth investors already prefer hybrid models to a traditional advice model.
To gain more insight into client preference for advisors, check out our summary of the key research insights from our study, "The New Face of Wealth Management." We'll tell you why digital tools are no longer seen as differentiating (but are key to success) and why human advisors are still a very necessary part of your advisory model.
If you would like to discuss this topic further or get additional information, please email capital.markets@accenture.com.