It should be getting easier for your clients to do business with you.
And yet, when prospects are courted by wealth management firms, the final handshakes get complicated. They are still asked for a wealth of information. Information they likely have provided to other firms prior. Information that takes up too much of their valued time to gather and give to your firm.
Earlier this year, I shared my initial thoughts on blockchain and promised to revisit the subject. Blockchain creates all sorts of possibilities for a shared, protected data solution that could be used by wealth managers and clients. From basic information to risk profiles and historical returns, such an implementation can help financial professionals create a seamless transition for clients.
In the healthcare realm, we are becoming used to our electronic medical record (EMR) traveling with us, accessible regardless of doctor or healthcare facility. The same concept, applied to financial clients, only makes sense. Imagine that all the pertinent information for any given family or investor lived in a fully validated and interconnected profile. This profile could be used by firms (with permission) to expedite onboarding, margin or other credit decisions related to investments.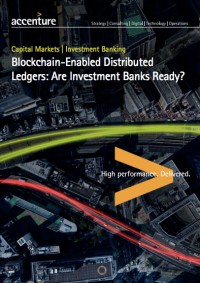 The use case for this client or prospect profile is something we are hoping to explore with blockchain. And, with a number of blockchain alliances formed to test the technology, this type of implementation is now much closer to reality. With alliances such as R3CEV, the Post-Trade Distributed Ledger Group (PTDL) and Dubai's Global Blockchain Council (GBC)[1] and organizations like Manulife/John Hancock[2] and the Australian Stock Exchange[3] already experimenting with blockchain, the needle will move fast on adoption.
And of course, the windfall could be the potentially vastly reduced cost of wealth management due to blockchain – from payment to settlement and custody fees, as well as many other line items. Millennials will likely invest for their retirement at a far lower cost than that paid by their parents, thanks to a host of key enablers, blockchain being one of them.
Implications abound. Institutions that automate less complex, manual tasks could come out on top. Active managers will probably have to find a way to remain relevant, as blockchain and robo-advice technology enable management of mass customized portfolios of securities. We may witness the democratization of wealth management, so to speak, as clients with lower account values can be catered to more profitably.
If you would like to discuss this topic further or get additional information, please email capital.markets@accenture.com.
[1] http://www.coindesk.com/microsoft-unveils-project-bletchley-streamline-consortium-construction
[2] http://www.manulife.com/public/news/detail/0,,artId=148767&lang=en&navId=630002,00.html
[3] https://next.ft.com/content/9def626f-8c11-3ea9-9e76-612f494e04b7