By now, we've all heard the stats: Baby Boomers are getting set to transfer as much as $30 trillion in assets to their heirs.[1] Between 2031 and 2045, 10 percent of all US wealth will change hands every five years. But there are a few other important figures that might not be on your radar.
As little as 20 percent of intergenerational wealth transfer could remain with the benefactor's wealth management firm. Why? Here's a clue.
Fifty-three percent of advisors meet with their clients' heirs less than once per year—and 18 percent never meet them at all.[2] It's no wonder that many heirs look for other options upon inheritance. Whether it's because they can't relate to a younger generation or because they've written them off as unprofitable, advisors could be missing a golden opportunity to build loyalty and trust with tomorrow's investors.
Fifty-one percent of millennial heirs are interested in a digital-only relationship. Ninety-one percent of them use social media every day, but few connect with their advisor online. They're interested in self-service and robo-advice—anything digital and whatever their family, friends and social contacts are using.
Over the next 40 years, women will inherit 70 percent of the intergenerational wealth transfer.[3] Research suggests that women want financial advisors who use an advice-led approach that takes into account their personal situation and financial journey—something most advisors aren't doing today.
So we know that a lot of wealth will be changing hands in the next several decades. We also know that heirs don't have much loyalty to benefactor advisors—and most advisors haven't taken steps to change that. Here's where to start:
Connect with heirs. Each of your existing clients is part of a multigenerational family of potential future clients. It pays for both you and your client to take a long-term view where wealth management is concerned.
Embrace digital technology. It's no secret that millennial heirs are partial to mobile services and digital touchpoints over face-to-face interactions. What's stopping you from joining them?
Evolve your advisor workforce. Women and millennial heirs have different needs and expectations when it comes to wealth management. Getting to know them will give you the information you need to create a diverse advisor workforce that reflects and is capable of connecting with future clients.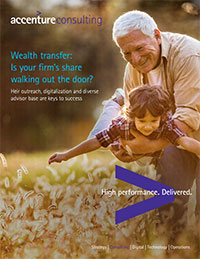 How well your firm prepares for the upcoming intergenerational wealth transfer from Baby Boomers to millennials will determine how well you fare in the coming years. Winning at wealth transfer isn't easy, but neither is watching your share of $30 trillion walk out the door.
We have been researching and writing on this topic for several years, but our point of view continues to evolve as we work with our clients. For our latest insights, read: "Wealth Transfer: Is Your Firm's Share Walking Out the Door?"
If you would like to discuss this topic further or get additional information, please email capital.markets@accenture.com.
[1] http://www.bankinvestmentconsultant.com/news/gen-x-gen-y-represent-sweet-spot-for-retirement-specialists
[2] http://www.investmentnews.com/article/20150713/FEATURE/150719999/the-great-wealth-transferiscoming-putting-advisers-at-risk
[3] Boston College, Center on Wealth and Philanthropy