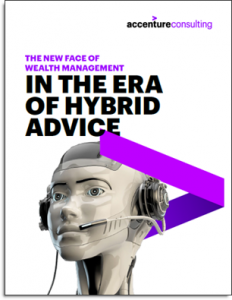 I had the good fortune recently to participate in great conversations on the future of wealth management. Accenture hosted some wealth management industry leaders in New York, St. Louis and Toronto at executive roundtables to discuss the rapidly changing face of the industry.
We shared with the attendees Accenture's latest research on wealth in the digital age, "The New Face of Wealth Management". The findings from this research dovetail with what many firms are experiencing currently. For instance, the end customers' digital expectations are getting higher and higher because of their experience with broader tech platforms and a desire for transparency. And many of the digital tools that were differentiators just a few years ago are now basic table stakes to many clients.
But, just to pick on the most important aspect, the major finding in our research is that hybrid advice—a mix of human and robo-advisors—is already upon us. According to our research, it will be the preferred method of wealth management going forward. To that point, 72 percent of US$10 million-plus investors and 56 percent of millennials question the value of a dedicated advisor and only 8 percent of respondents believe robo-platforms can deliver customized advice. While this client preference for hybrid seems clear, regulators are not equally as clear. They are still wrestling with how to make hybrid compliant. Hence concepts like "pay by the drink advice" and semi-dedicated advisors are still a challenge.
From a broader industry perspective, we see robo- and hybrid advice really taking off at many of the big wealth management firms at present. But many of the industry players we talk to are struggling with what comes after their pilots. Some are now trying to determine how to integrate existing value propositions with significant opportunities to address underserved segments of the investor population.
Others are wondering how best to help advisors see hybrid advice as a boon rather than a threat. The human side (as it always is) remains the most difficult to get right. Wealth management firms currently need to think through how to change almost every facet of the industry model.
All of those topics triggered great discussions and in all cases we ran out of time. Please watch this blog as I will share further updates from this research and new insights over the coming weeks.
If you would like to discuss this topic further or get additional information, please email capital.markets@accenture.com.