The changing expectations of modern investors and the industry pressures to grow revenue and improve efficiencies have made it harder for wealth management firms to keep up with client demands. Clients are shopping around more—and 64 percent of the time they do this to seek a better digital experience.[1] Wealth firms need to truly understand their clients' ever-evolving needs, and then provide an experience that accommodates these requirements to build trust and loyalty across generations.
One key factor to success is to put the client at the center of everything—and use what your firm knows about them and their preferences to personalize onboarding, holistic planning & advice, relationship management, servicing and business management.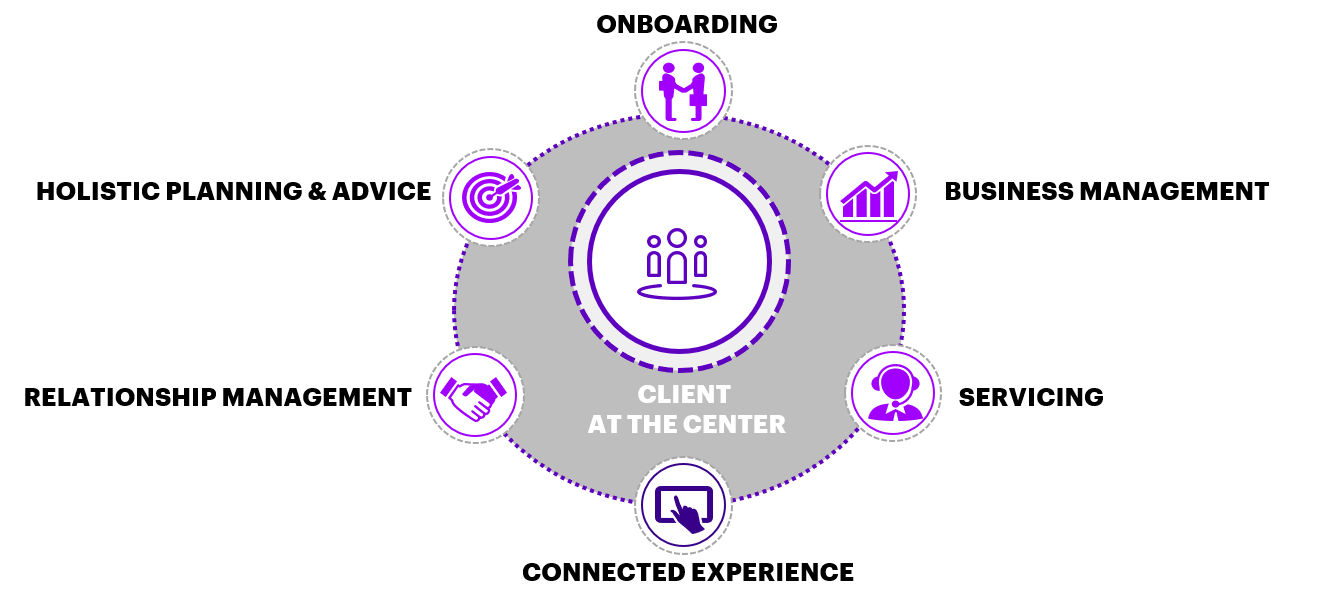 Source: Accenture
These capabilities should be integrated into a cohesive experience that empowers advisors to focus on helping clients achieve their life goals, instead of tedious activities to overcome technology hurdles. It is untenable for advisors to meet clients' demands while wrestling with disjointed tools.
From our experience working with clients who are at various points across their entire wealth transformation, a critical first step is helping them align their vision that brings all these capabilities together. Using our human-centric design thinking approach, we meet with advisors to understand the firm's culture and unique needs, and then co-create an experience that truly changes the way they operate day to day.
We have also conducted extensive due diligence on the wealthtech ecosystem, and we partner with market leaders to help them evolve their platforms for the future. One of the leading solutions to accelerate the wealth transformation is Salesforce's Financial Services Cloud (FSC), which extends far beyond traditional client relationship management (CRM) capabilities to allow firms to focus on experiences that truly differentiate their brand.
Our view is that FSC provides a solid foundation for a cohesive experience. For example, the information known about the client's needs, preferences and external assets could feed into their goals-based planning discussion within the solution, and valuable insights collected during planning discussions could enrich their client profile. Information collected across the firm—whether in the branch, contact center or digitally—is often peppered with insights, which can be triggered to advisors to help them proactively manage issues, recognize life events and provide more relevant interactions.
There are also lesser-known FSC capabilities that could help improve the client experience:
Salesforce Knowledge – helps to provide advisors or clients with the information they need at any given time and for specific situations.
Case management – when you use Salesforce across the business, you can share powerful information raised to the Contact Center or self-service requests initiated online. For example, if a client updated their employment info, the advisor should be able to set up alerts to know that their client has a new job.
Ecosystem partners – Our work with leading wealthtech providers allows us to bring the best solutions to help clients accelerate their transformation. Many of these wealthtech providers are developing Salesforce-native applications specifically for FSC, which will allow for an even more seamless user experience.
Of course, it is important that advisors have access to this experience across channels, including desktop and mobile, so that they can be responsive to clients in the office and remotely. To further connect advisors with clients, robust collaboration tools that allow video and conferencing are also important.
With any CRM solution, it's essential that firms also consider how to adapt these platforms to their unique business strategies, culture and their advisors' methodologies. That's why we typically start transformations with rapid prototyping to bring to life the critical components that help executives gain consensus before making key investment decisions. We have invested heavily in our design, implementation and talent capabilities to support advisor workforce transformation.
If you are thinking about a new advisor platform, advisor enablement or Financial Services Cloud, we'd like to meet with you. Contact me, Rachel Silver to schedule time to meet or have an in-depth conversation at our Innovation Showcase at Dreamforce in San Francisco, September 25-28, 2018.
[1] https://www.accenture.com/us-en/insights/living-business/living-business-research-2018