In the rush to convert to hybrid advice, a model that combines human and digital capabilities, and establish digital platforms to better serve clients, some wealth managers are forgetting one major component: their workforce. While changes are made ostensibly to better serve clients, that generally happens when workforces are better served by their employers. When revamping your front office, don't forget the people who inhabit it.
Research from Iress shows employees are welcoming new technologies and the results it can bring.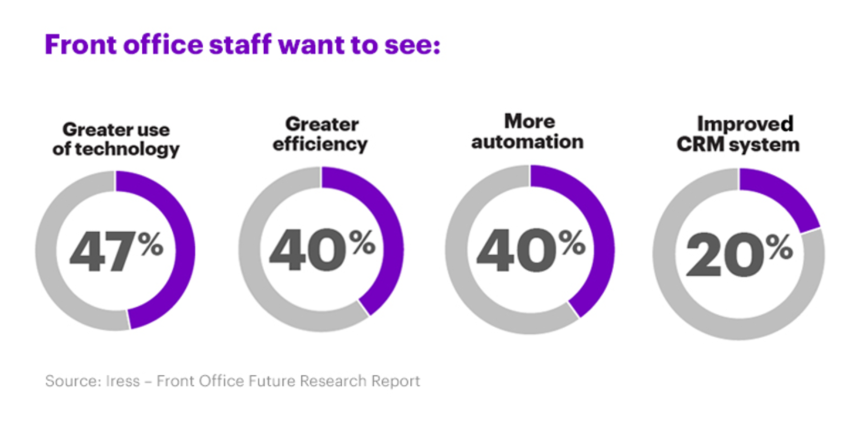 Technology as coworker
Wealth management firms should take steps to help front office employees become agile and adaptive in this new world, where technology becomes a coworker rather than a tool. As AI and automation become more prevalent, training and reskilling are essential to advisors working well with digital platforms.
Accenture's new paper, On the Front Foot, highlights the areas wealth management firms should look at when considering the front office impacts of technology—from client management to risk and compliance. It discusses the implications of technology-induced trends such as:
The increased ratio of clients to advisors
The need for support staff to be trained in digital tools
The decline of commission-based incentives in favor of salaries
Increased training and guidelines for social media as sales and marketing staff use it as a tool
Expansion of risk and control frameworks to monitor people and technology
And much more.
Future ready starts now
Mapping out the workforce implications for each area of the new wealth management operating model is key to success. But, timing is everything. Leaving workforce issues as an afterthought puts speed to implementation and results at risk.
I invite you to check out our new point of view, measuring your firm's progress against the suggested areas of focus for the front office.
And, as always, our Accenture wealth management team is here to help. If you would like to discuss this topic further or get additional information, please email capital.markets@accenture.com.