Talk about a sea change. Wealth managers and financial advisors are in the thick of it. Not only is their work environment changing, the skills that distinguish those on the cutting-edge from run-of-the-mill are drastically changing as well.
There's a bigger question that top wealth management firms should be dealing with now. It's not just that wealth managers need to stay on top of new technologies to do their job—it's the demands from clients that are changing the very nature of their job. When we talk about advisory nowadays, it necessitates a holistic wealth management—considering both sides of the balance sheet (liabilities/debt and assets/equity).
Because client demands are more complex, leading advisors have expanded the definition of advice by going above and beyond the call of duty. At the front end, advisors are providing cashflow and budgeting advice, and at the back end, they are providing concierge-type services. These include introducing clients and their families to a network of external partners like accountants and lawyers, but also even doctors, car dealerships, personal shoppers and other providers. The relationship between advisors and clients are becoming less transactional and more human.
The successful financial advisor in the future will therefore need an entirely new skillset so they can work smarter—and more cohesively with a new generation of tech-savvy clients. Their focus need to shift from prioritizing client account transactions to client empathy and compassion.
Looking forward, Accenture has identified a dozen key capabilities for advisor success in the hybrid world.
Each of these capabilities is related to a supporting digital technology. From client onboarding, to rich profiling, to analytics, wealth advisors should now be steeped in technology. Whether it's a 360-degree view of the client or digital contract management, advisors need a new breed of on-the-job training and education to succeed.
If your firm is still trying to formulate a vision for the new wealth advisors, here's the good news: The very technology that is forcing your advisors to learn new skills can also be used to facilitate that learning. In fact, it can turn your traditional advisor training on its head, with a digitally-enhanced option that better engages this key workforce.
In my travels, I often hear wealth management leaders say their traditional advisor training is not achieving hoped-for results. Generally, this could be the case because it's not based in real-life scenarios, it's not designed to be easily retained, it communicates too much information without being engaging—I'm sure you've had similar experiences.
Using intelligent technologies to fuel advisor learning is a great alternative. An interactive, sustainable learning program is worth the investment. It can help your advisors hit the ground running in a new digital environment. Let's take a look at how: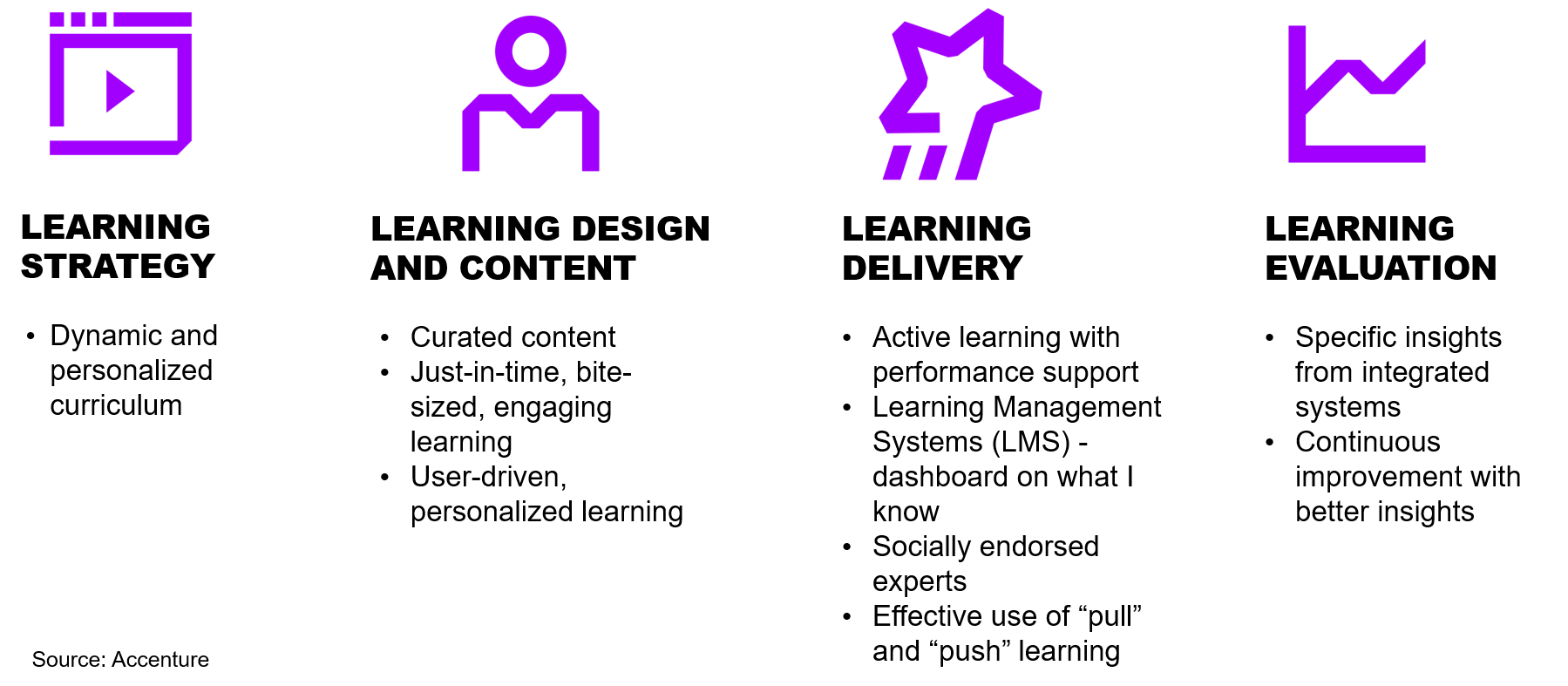 But don't take my word for it. Accenture recently helped a large multinational banking conglomerate recapture the curiosity and engagement of its top sales managers, while moving forward with aggressive growth plans. We also recently helped another large bank teach line-of-defense concepts to enhance risk awareness and collaboration with clients. This bank implemented a highly interactive, video-based game that enables employees to interact with different situations, make decisions and respond to them—receiving feedback on the viability of each.
Whether it's using augmented reality and gaming or delivering just-in-time learning at the point of action, educating your financial advisors today should look nothing like it did yesterday. In the current wealth management landscape, the successful financial advisor will be the one who accepts change as the new normal and has the client empathy and compassion to perform optimally in this environment.
So, the question to ask is: Are you setting up your advisors for this success? And if technology can help you do that, are you using it to full advantage?
If you would like to discuss this topic further or get additional information, please email capital.markets@accenture.com.