If you are both acting and aiming to continue to be a leader amongst capital markets firms, the last few years have likely had you focusing on becoming a digital business to deliver cost reductions as well as leverage as many revenue enhancing opportunities as possible. Social, analytics, mobile and cloud are now woven through the fabric of your organization. So, now, what will you do with your digital advantage?
Digital leaders make the shift from "me"
The recently released Accenture Technology Vision 2015 reveals how pioneering enterprises are doing more than just talking a good digital game. Proactive firms see their businesses, employees and customers as a living, breathing digital foundation offering unprecedented opportunity to establish a presence in new markets, drive profits and change life for the better. These firms are mastering the shift from "me" to "we."
2015 Vision trends
This year's Tech Vision maps out five trends:
The Internet of me: Our world, personalized
Forward-thinking firms are changing the ways they build new applications, products and services. How are they doing this? They're creating experiences—and not just any old experience will do. Leading digital firms are creating highly personalized experiences that engage and exhilarate customers.
Outcome economy: Hardware producing hard results
Intelligent hardware is just that—it's bridging the last mile between the digital enterprise and the physical world. Leading firms are uncovering opportunities to embed hardware and sensors in their digital toolboxes, and they're using these components to give customers what they really want—meaningful outcomes. The philosophy of "selling things" is last year's news. This year, it's about selling results.
The platform (r)evolution: Defining ecosystems, redefining industries
Digital industry platforms and ecosystems are fueling the next wave of breakthrough innovation and disruptive growth in the capital markets industry. Advances in cloud and mobility are not only eliminating the technology and cost barriers associated with such platforms, but also are opening up this new playing field to enterprises across industries and geographies. Capital markets firms take note: platform-based ecosystems are the new plane of competition.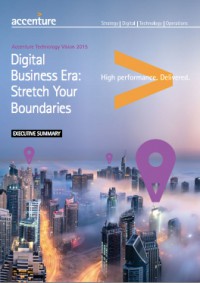 Intelligent enterprise: Huge data, smarter systems—better business
With an influx of big data—and advances in processing power, data science and cognitive technology—software intelligence is helping machines to make even more and better informed decisions. Leading capital markets firms must now view software intelligence not as a one-off project, but as an across-the-board functionality.
Workforce reimagined: Collaboration at the intersection of humans and machines
Advances in natural interfaces, wearable devices and smart machines will present new opportunities for companies to empower their workers through technology. Successful firms will recognize the talent and intelligent technology working side by side in collaboration—and they will embrace them both as critical members of the reimagined workforce.
These trends represent a fundamental shift in the assumptions capital markets firms must make as they plan for success in the years to come. Those firms that are successful are looking externally to create and become part of digital ecosystems. They're not just selling products and services—they're selling outcomes.
To learn more, read
"Accenture Technology Vision 2015: Digital Business Era—Stretch Your Boundaries Executive Summary"